Columns
Axcelead as a unique drug discovery solution provider
Hello Valued Customers and Partners, I am Yoshinori Ikeura of Axcelead Drug Discovery Partners Inc. (Axcelead) and we are promoting "Innovation Engine Unit" in Drug Discovery Support Promotion Project of Japan Agency for Medical Research and Development (AMED). Axcelead started the business in July 2017 as a drug discovery solution provider that inherited the drug discovery platform business of Takeda Pharmaceutical Company Limited. Axcelead is the only provider in Japan to offer Integrated Drug Discovery (IDD) services. Almost all of the functions required for drug discovery work closely together under one roof in Axcelead to offer a package of services customized for each customer and their needs. The figure below is a schematic representation of these functions. In this way, I think that you can imagine an organic research network in which multiple specialized functions collaborate in each step and the steps are connected to creating a drug discovery process.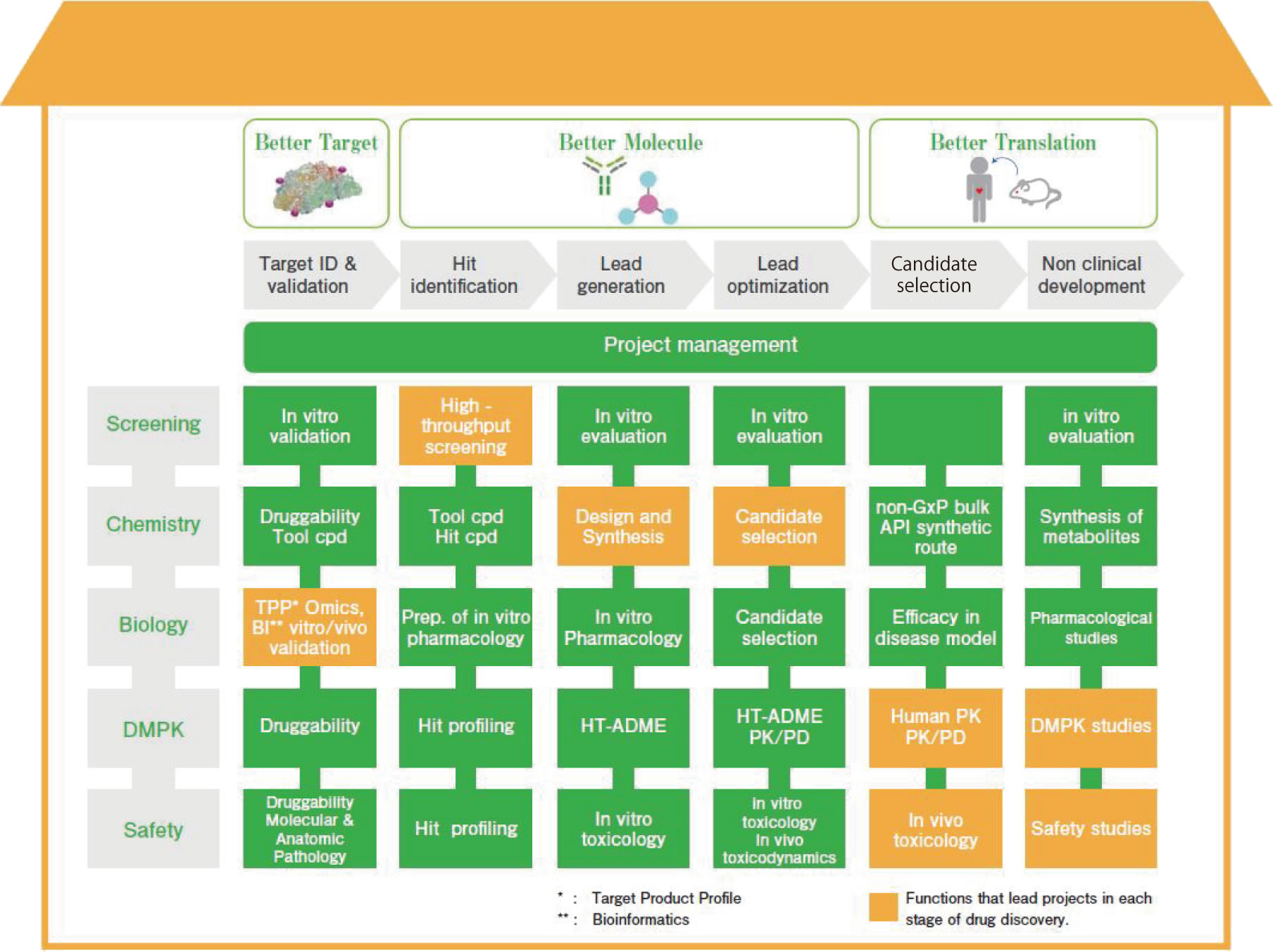 In the past, drug discovery research and development (R&D) may have been mostly carried out within each pharmaceutical company with their own resources. However, as other authors have mentioned in previous columns, industry-government-academia collaboration is currently required in various fields, and its potential is also highly expected in drug discovery R&D. In the R&D system, which sometimes tends to be complicated, we hope that Axcelead will be the driving force for multiple players to work together and develop research by bridging their cooperation. The keywords of Axcelead VISION 2025 are also "to be a bridge" and "to be sought-after" in drug discovery R&D aiming for patient-centricity. To achieve this, it is effective and essential to continue training Axcelead for our solid experience and technology in drug discovery research, as well as to develop new partnerships that can complement each other*.
We can say that one of drug discovery capabilities in Axcelead is small molecule drug discovery. This is based on the experience and technology we have had since we were part of Takeda Pharmaceutical Company Limited. Small molecule drugs are generally low in manufacturing cost and are expected to be administered orally; however, those small molecule compounds are sometimes said to have already been thoroughly researched, and to be able to have no further targets found in drug discovery. In addition, the diversification of modalities such as biologics, cell therapy, and gene therapy, has led to open innovation of new modalities in pharmaceutical companies. However, we believe that the potential for small molecule drug discovery remains important, along with new drug discovery modality. Through the progress of basic research and technological innovation, it has become possible to find some targets "druggable", which was "undruggable", in small molecule drug discovery. For instance, we can target further RNA and protein-protein interactions, with small molecule compounds. We believe that small molecule drug discovery will continue to evolve by acquiring new technologies and building and collaborating in partnerships that enable them, on the solid research base so far.
Our efforts as "Innovation Engine Unit" in AMED Drug Discovery Support Promotion Project
Here, I would like to introduce one initiative that highlights our partnership. Shortly after the start of our business in 2017, Axcelead was selected for executing infrastructure program for drug discovery seeds development in AMED Drug Discovery Support Promotion Project. We believe that Axcelead's potential to contribute to projects at all drug discovery stages in the schematic diagram above, including planning before starting research, was evaluated. In this project, Axcelead as "Innovation Engine Unit" has provided drug discovery consultations and acquired necessary data for the seeds and concepts owned by Academia. Last year, it was the middle point of our unit project. Over the two and a half years, Axcelead had been involved in a total of 13 projects aimed at developing new drugs, with beyond 100 Axcelead members engaged. By referring to the number of our engaged members, I think you can see how actively the above-mentioned drug discovery network is working in Axcelead, along with our partners**.
"By consulting in early stages of research, we were able to propose the optimal method for our client's request." "By miniaturizing the assay system and introducing alternative methods, we were able to advance the data reporting time." "By collaborating with multiple departments to acquire data, we were able to demonstrate the strength of Axcelead, which provides various services required as a one-stop service." "We were able to achieve smooth data acquisition and research promotion with the reliability of Axcelead's research and its policies."
These are the voices of Axcelead members engaged in this unit project. By starting to work together in each project at early research stages, we had the opportunities to demonstrate the strengths of Axcelead. Of course, in each project, various problems occurred and some of them could be solved, and some of them reached No go after acquiring and evaluating necessary data. The results vary, but each of these voices made us realize that Axcelead can move forward with our partner clients.
Each of the requests and projects we have been involved in during the three years since the start of Axcelead gives us confidence in our business and its vision. We will continue to value opportunities to develop our experience and technology in IDD research so that customers can consider Axcelead as a partner working together toward drug R&D. We, along with customers and partners, will continue to advance research, resulting in patient-centric improvements.
* For details, please refer to Axcelead website:

https://www.axcelead.com/en/
** For details, please refer to AMED website:

https://www.amed.go.jp/content/000058820.pdf (Japanese text only)
December 2020
Yoshinori Ikeura, Ph.D.
Chief Executive Officer
Axcelead Drug Discovery Partners, Inc.